Company Profile: Jiangyin Lancheng Environmental Protection Technology Co., Ltd. ("Lancheng Environmental Protection" for short) specializes in waste incineration power generation investment projects, EPC general contracting, equipment manufacturing, operation and technical transformation. It is the world's leading comprehensive service provider of the whole industry chain environment. Accumulated more than 50 waste incineration power generation PPP projects. Daily processing of domestic waste exceeds 100,000 tons.
Mission: Gather clean energy and deliver happiness power.
Vision:Committed to becoming the world's most competitive and respected smart energy enterprise, a spiritual home that can inspire employees' creativity, passion and dreams, responsibility and mission.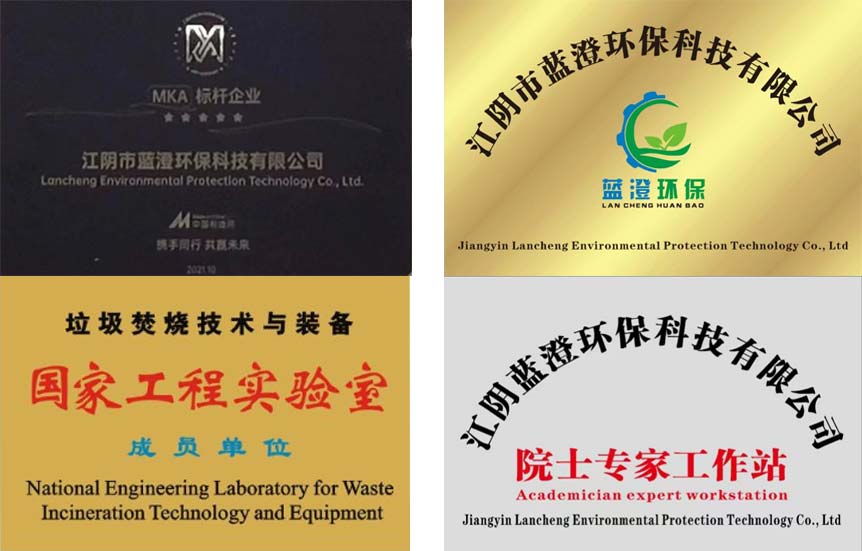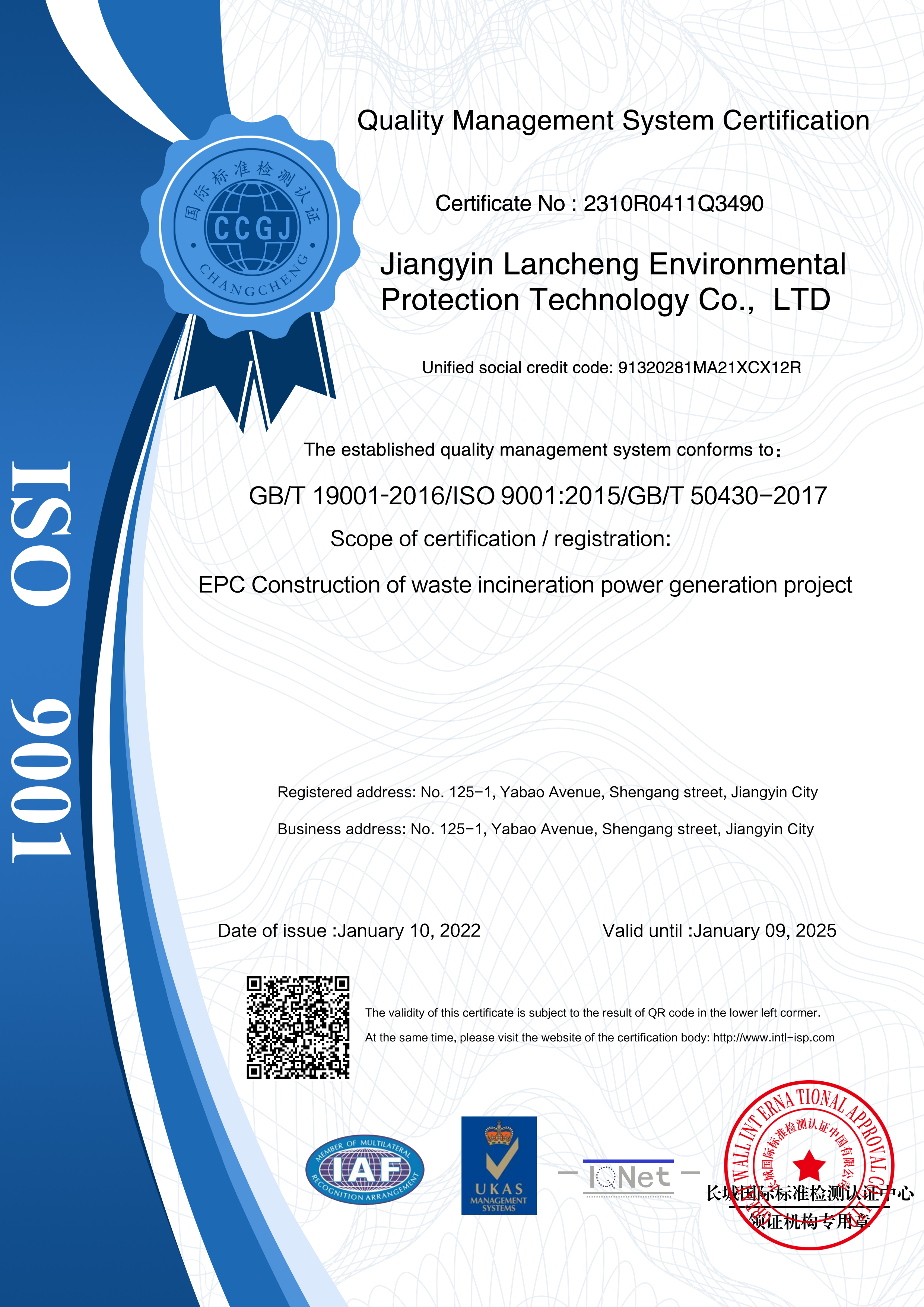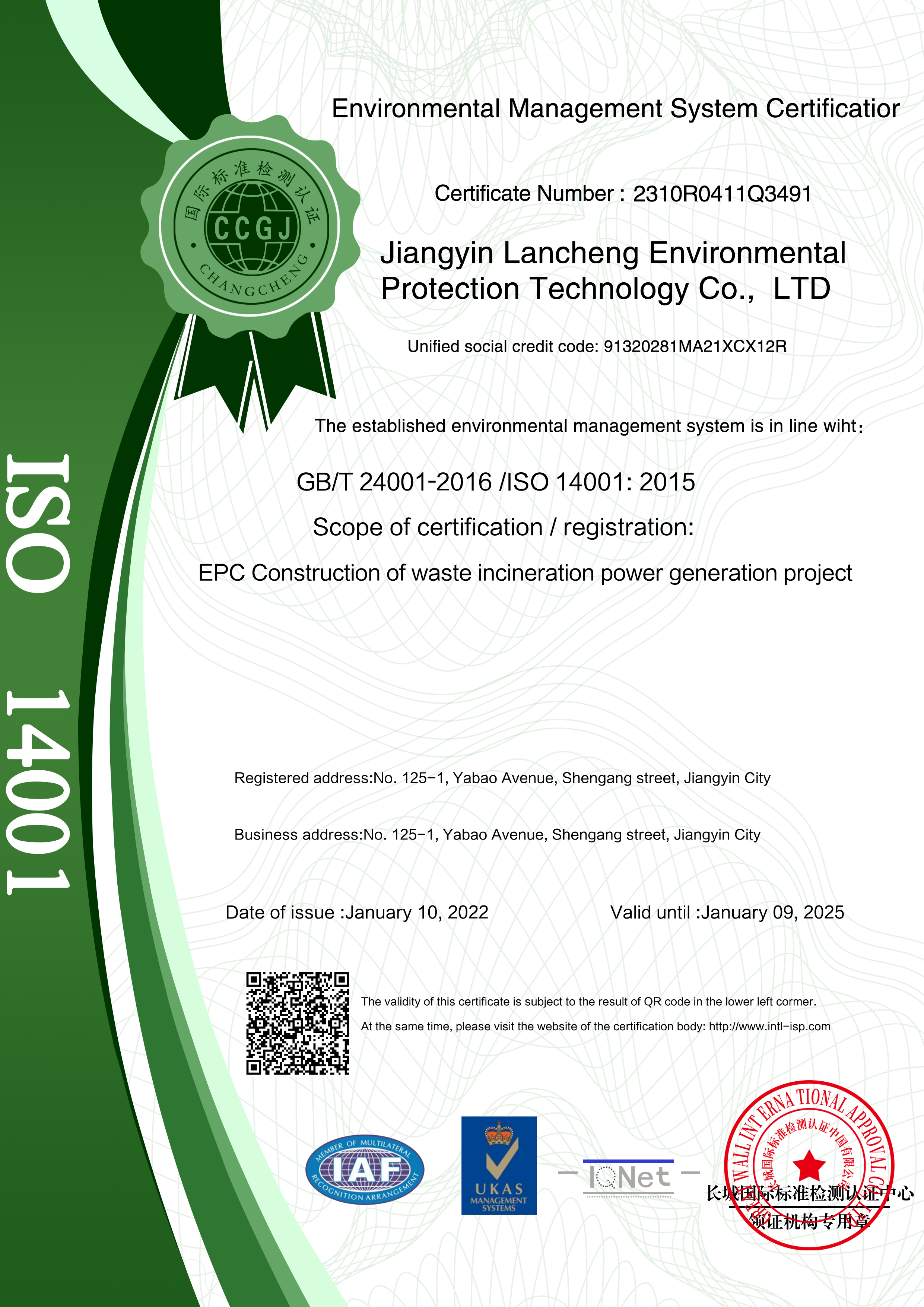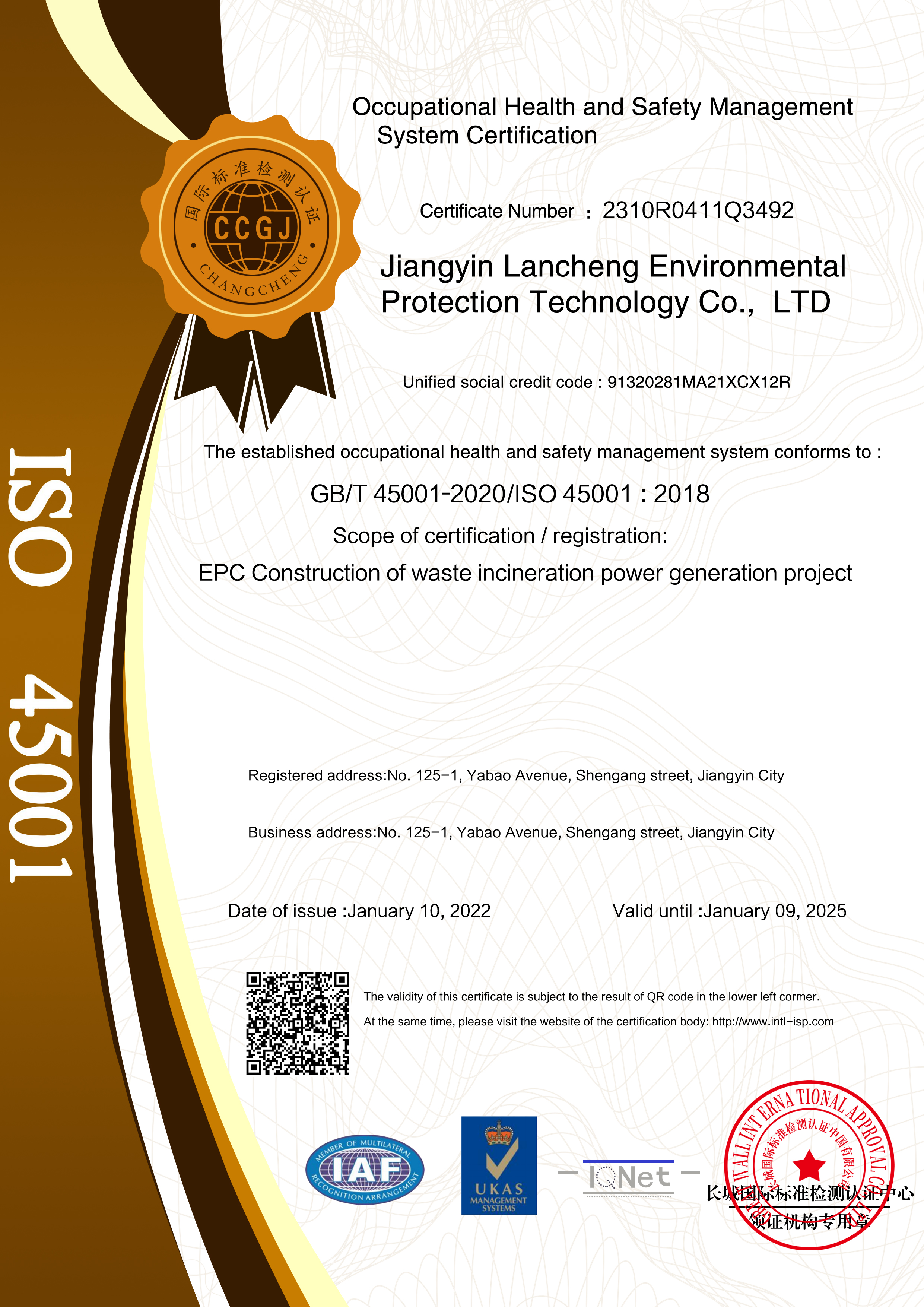 Core business:waste incineration power generation
Lancheng Environmental Protection introduced a complete set of European technologies, including incinerator-boiler, flue gas purification system and corresponding control system. After long-term digestion and re-innovation, the localization of a complete set of equipment has been achieved, which can effectively produce urban residents' domestic waste with low calorific value and high water content in developing countries. Up to now, we have provided the whole industry chain services of waste incineration power generation project investment, EPC general contracting, complete equipment supply and operation management.


Process flow: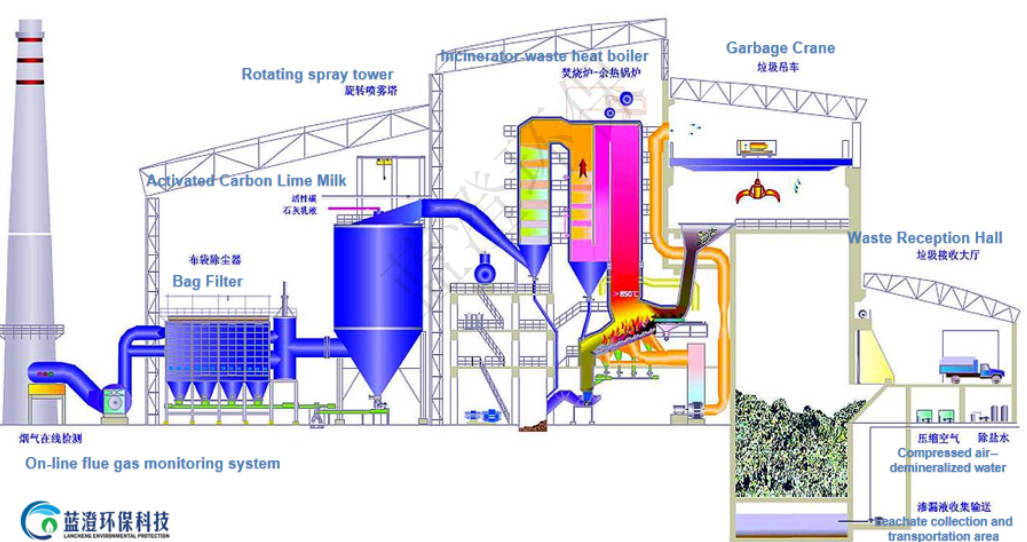 Lancheng Environmental Protection has its own garbage incinerator assembly base (the annual output can reach more than 50 units). Can produce LC300, LC500, LC750 three kinds of incinerator products. The processing scale of a single unit ranges from 200-1000T/day. Manufactured by Lancheng, it adopts a full range of semi-automatic and fully automatic systems, which reduces the number of operators. At the same time, we are equipped with a central control system, which can monitor every small system and give early warning of danger, including remote operation functions, which greatly improves the operation of the equipment. safety.
Lancheng grate features:
1. Reverse push tilt reciprocating motion
2. The grate sheet has a long service life
3. Low maintenance cost
4.Slag reduction rate <3%

Leachate Treatment:
The leachate treatment system independently developed by Lancheng adopts multiple high-tech processes such as pretreatment, anaerobic fermentation, membrane bioreactor, nanofiltration, reverse osmosis, etc. The incinerator supplements the treated reclaimed water to the cooling cycle system of the power plant for use, and realizes zero discharge and full reuse of leachate.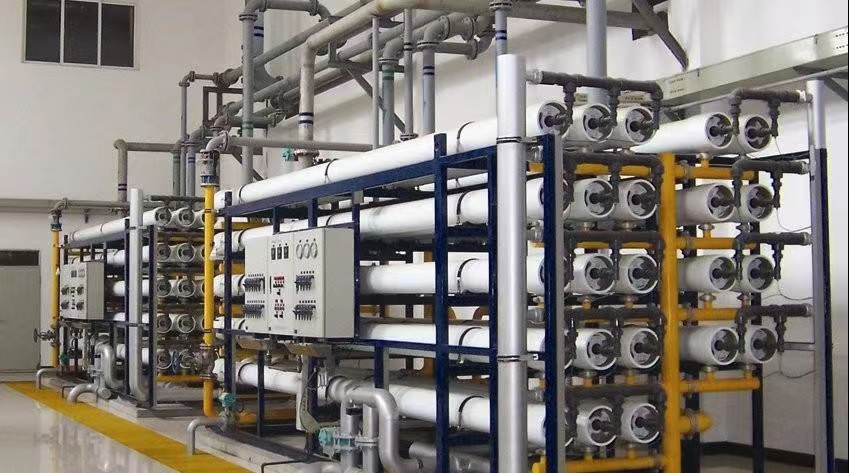 Flue gas purification:
The combined process of "selective non-catalytic reduction denitrification + semi-dry method (lime slurry) + dry method (slaked lime) + activated carbon adsorption + bag filter + selective catalytic reduction denitrification + wet scrubber + flue gas heating" is adopted. The emitted flue gas not only meets the national standard (GB18485-2014), but also far exceeds the strict EU emission standard (2010/75/EU).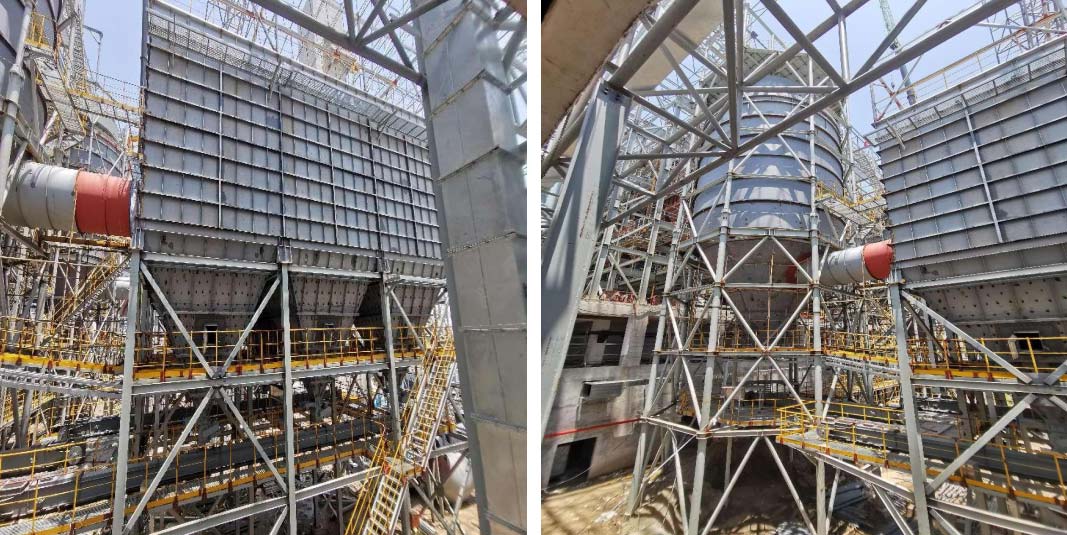 Fly Ash Treatment:
The self-developed heavy metal chelating agent can firmly lock the harmful substances in the fly ash, and the treated fly ash meets the national standard (GB16889-2008) and meets the safe landfill conditions.
Central control system hall: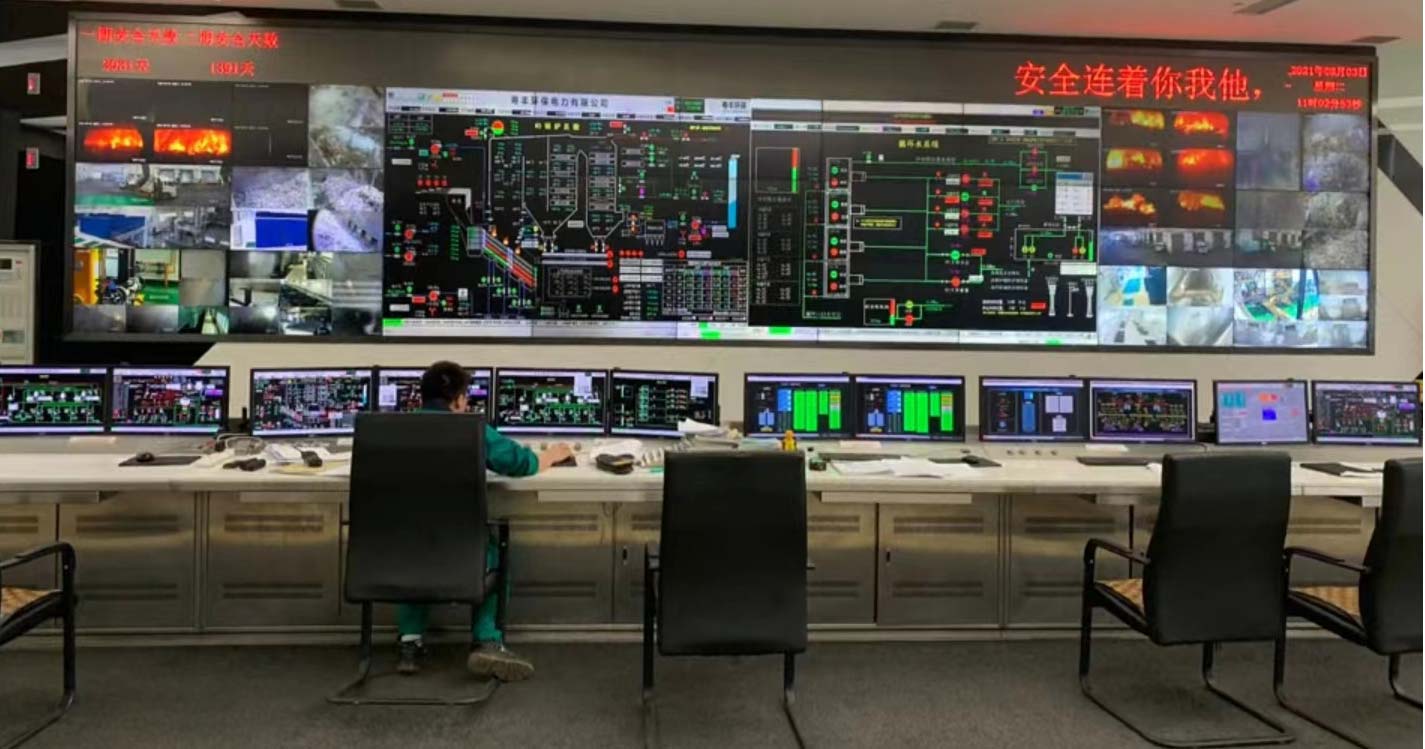 Garbage bin:

EPC demonstration project construction site: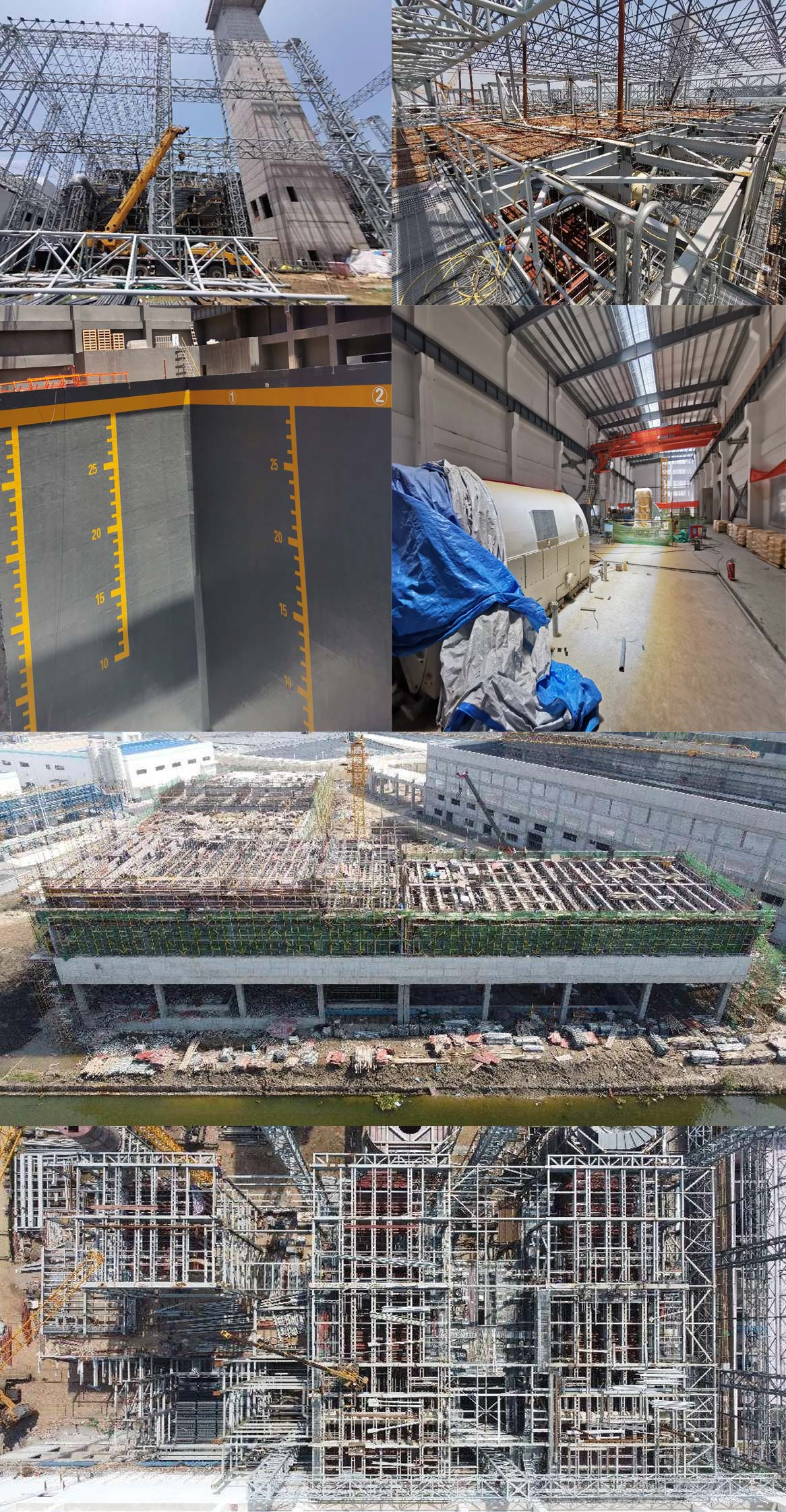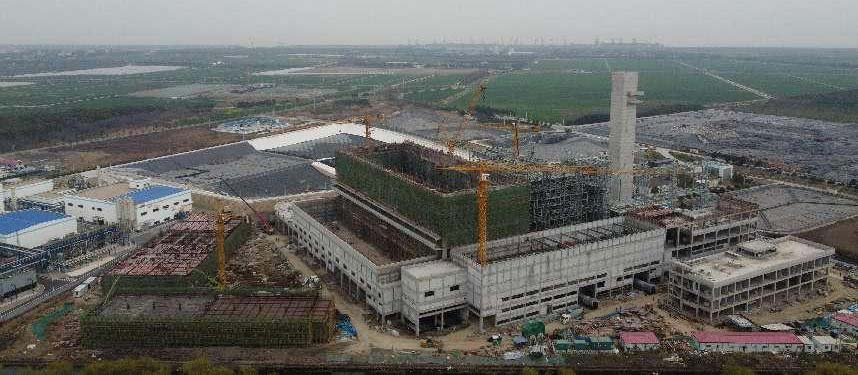 Lancheng Environmental Protection has achieved a number of EP or EPC general contracting projects around the world. The picture above is the construction site of the Zhangjiagang project (2250t/d) in Jiangsu, China.
company culture:
1. Team development/department team building 2. Gym/leisure bar 3. Lancheng badminton team competition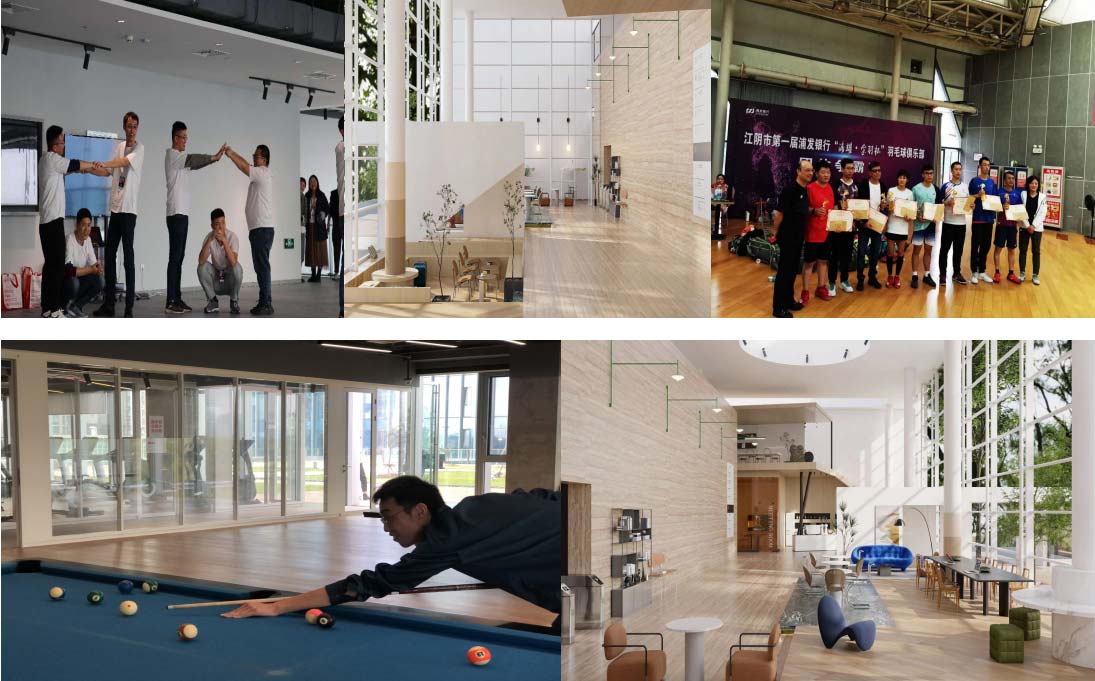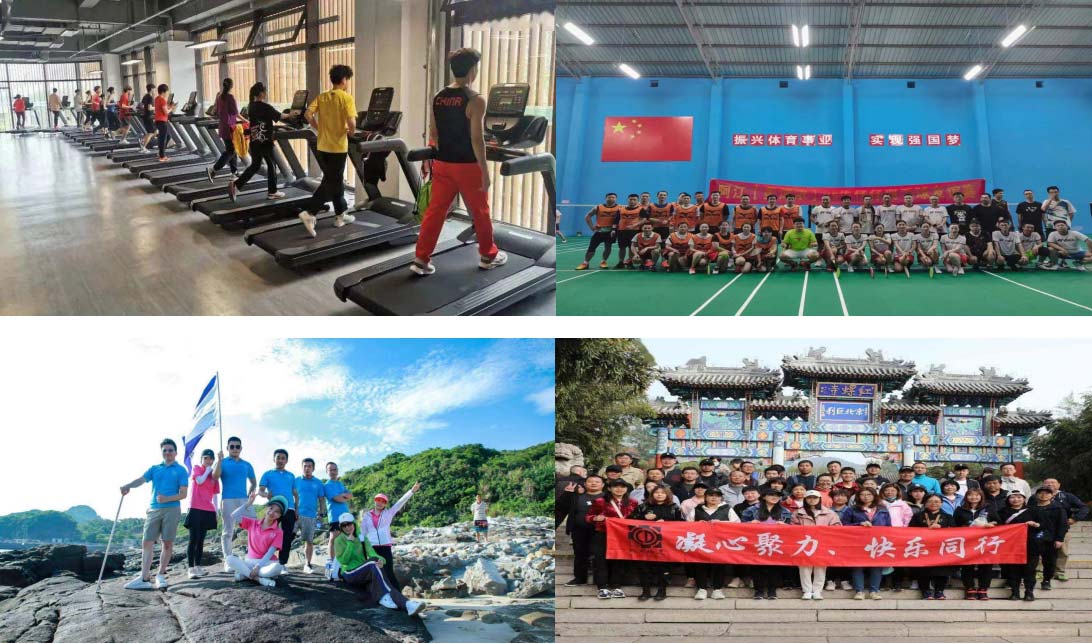 Employee Care
The company provides employees with remuneration packages that are higher than the industry level and comprehensive employee care.
In order to help employees settle down and settle down, Lancheng Environment provides employees with interest-free loan benefits for house purchases.
In addition to having a comfortable and warm office environment, the company also provides staff dormitories, restaurants, gyms, leisure bars, libraries, etc.
In order to enrich the life of employees, the company will also regularly carry out a variety of activities such as team development, annual travel, Lancheng family day, and Lancheng teaching.
The company has also established a women's development alliance to cultivate women's leadership, guide women to tap their potential, support women's education and development, and care about women's work and life.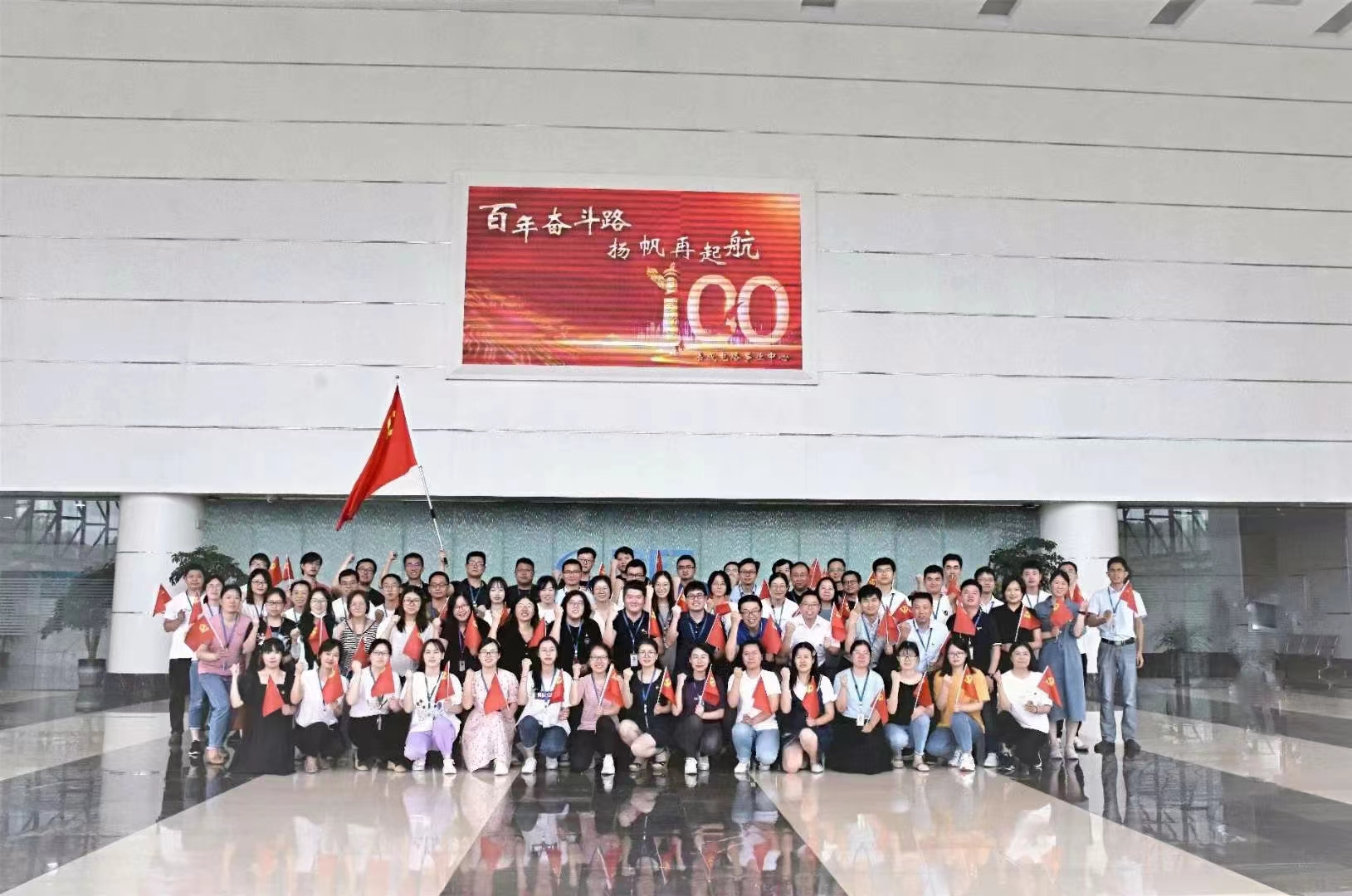 Lancheng School
Lancheng Environmental adheres to the talent concept of "Century Lancheng, Talent-oriented", and established Lancheng Academy on July 20, 2018, with technical director Dr. Zhong Shaowen serving as the dean of the school. Lancheng Academy is the core department of Lancheng environmental protection talent training. It has training camps for senior, intermediate and grassroots talents. With advanced teaching hardware facilities, a complete curriculum system and a strong team of lecturers, it has trained a large number of outstanding talents for the company.
As a socially oriented corporate school in China's solid waste industry, Lancheng Academy provides technical and management training for customers and partners, and is committed to becoming a "Whampoa Military Academy" for talent training in the solid waste industry, and to accumulate talents for the development of China's solid waste industry. team.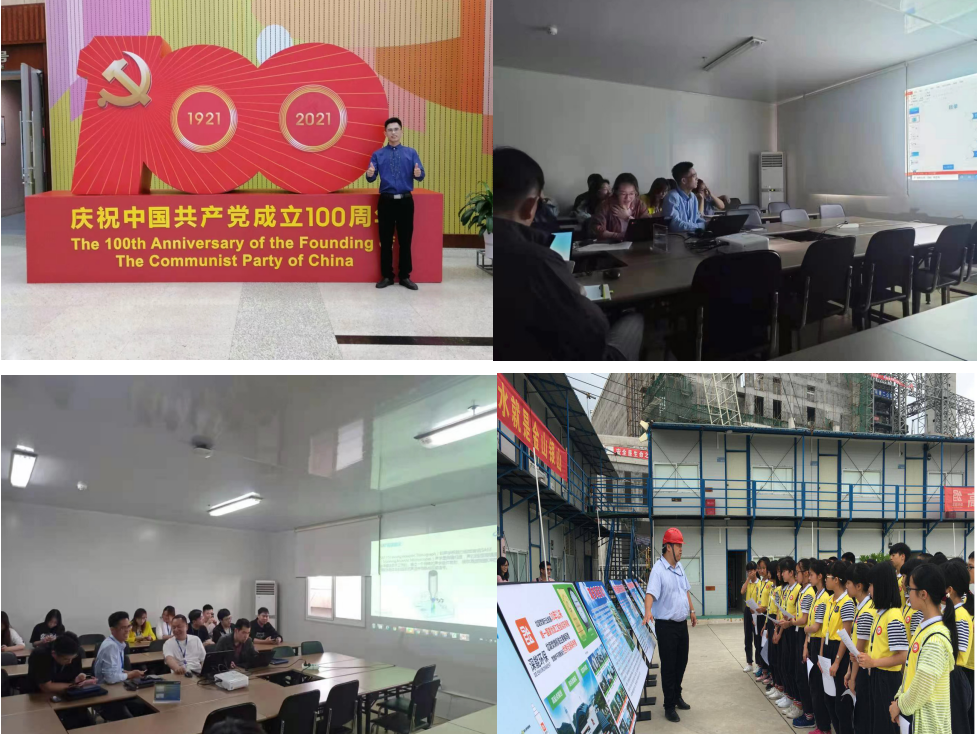 signing ceremony: